Grow Empire: Rome
Grow Empire: Rome is a mix of tower defense/offense where you control heroes and roman soldiers. You progress waves and gain gold and crystals to further upgrade your garnison. Your must defend your base by defeating all attackers before they break in. You can conquer neighbour villages and collect taxes from them.
Features
Bot will play waves, upgrade towers, archers, walls and catapults.
In battle, it will call reinforcements use ballista and hero buffs and attacks.
Configuration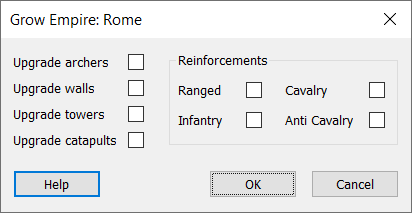 Upgrade Archers - Enable to upgrade castle archers
Upgrade Walls - Enable to upgrade castle walls
Upgrade Towers - Enable to upgrade ballista
Upgrade Capapults - Enable to upgrade castle catapults
Reinforcements - Select which troops to deploy. Ranged works best, because they can stay inside walls and attack. Anti Cavalry will deploy pikemen. Infantry is also ok because they have no weaknesses.
Ads
Grow Empire: Rome will play advertisement videos every once in a while. Bot will try to close the video and continue fighting. However sometimes when it cannot detect the video close button it will stop there. We are trying to keep this list updated but still this can prevent 24/7 bot gameplay. Make sure to check the bot after several hours.
Play in the background
You can work or play other games while the bot is running. You can also launch several bots on the same PC.
The game does not need to be on focus, you can cover it with other windows, do work or anything else. Just dont minimize the game.
Watch it or leave it, come back after some time and enjoy the spoils. You will become rich and powerful.
Try it for free!
Free Trial available for every supported game. Just login with google or facebook and activate free trial. You will receive trial key active for 3 days. Go to downloads section, get the bot and start playing now!
Watch a short video with the bot playing Grow Empire: Rome