Art of War: Legions bot
Farm gold
Bot will find and attack opponents again and again.
At level 6000, this generates just over 10 millions gold per day. With that money available every day, you will summon many troops to upgrade your army and become stronger.
Loot Hero Chests
Will periodically check for available chests and open them. You will progress levels fast and you will accumulate alot of chests. Hero chests can be opened once every 8 hours. Bot will open them when they are ready
Collect Gold and Gems from Chest
Chest accumulates Gold and Gems over time until its full. Bot will collect that for you.
Play Hunt missions
Go to Hunt screen and start the bot. It will automate that boring part and will complete all hunt missions. This will save you alot of time and clicks.
Attack opponents in Arena
Always do the 20 free arena fights per day. Bring the game to the Arena screen and press Start.
Configuration: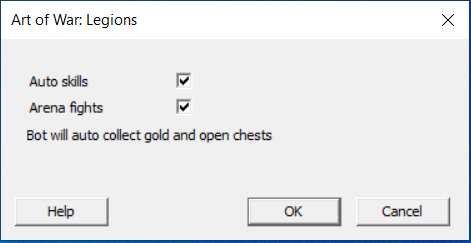 Just 1 option: Auto skills If checked, bot will enable hero auto skill usage. Bot will always summon troops in-battle. Disable Auto skills may be useful if you are using Davison, he is not high level and using his skill jumping in the middle of the fight makes him die much faster
Gold/Gems and Hero chests collection is always enabled. We decided not to include option to disable that feature because there is no benefit doing that. It's always better to have that enabled.
To Play:
To fight levels and collect gold, start bot in Home screen (with the big Battle button)
To hunt for missions, go to Hunt and then start the bot.
For arena, go there and click Start.
In order for the bot to run, game must be in English
Bot can only detect English images. To change ingame language from main screen click the hamburger menu icon (top left). Language menu is in the bottom right of game settings
Watch a short video with the bot playing Art of War: Legions