Battle Legion Bot
Battle Legion is online mass auto battler, were you fight other players. You are the commander of your army and you have to win battles, collect resources to progress and upgrade your army. Features dozens of unique units. Massive 100 vs 100 battles. Build and customize your own army.
Play 24/7
Bot will never get tired. It will do its job again and again until you stop it. Collects gold and tokens.
Farm gold
In Battle Legion you will always need more gold. Upgrading troops is expensive and after the first 1h of play you will not be able to upgrade all the units you want. With the bot playing tirelessly, you will slowly accumulate gold and be able to upgrade all your units.
Battle Enemies
Bot will fight over and over. You will progress in battlegrounds and get new troops and lots or resources.
Configuration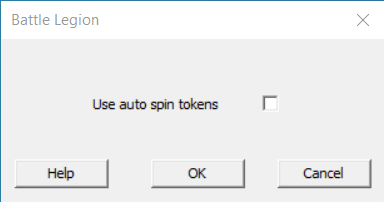 In the config there is only 1 option. If checked bot will use the auto-battle tokens.
Everything else is automated. Just launch the game and start the bot and it will do everything.
Pressing Help will bring this page in browser.
Questions or suggestions? Please email them to bots@zorobots.com
Watch a short video with the bot playing Battle Legion